You can also read the article from Chicpeajc here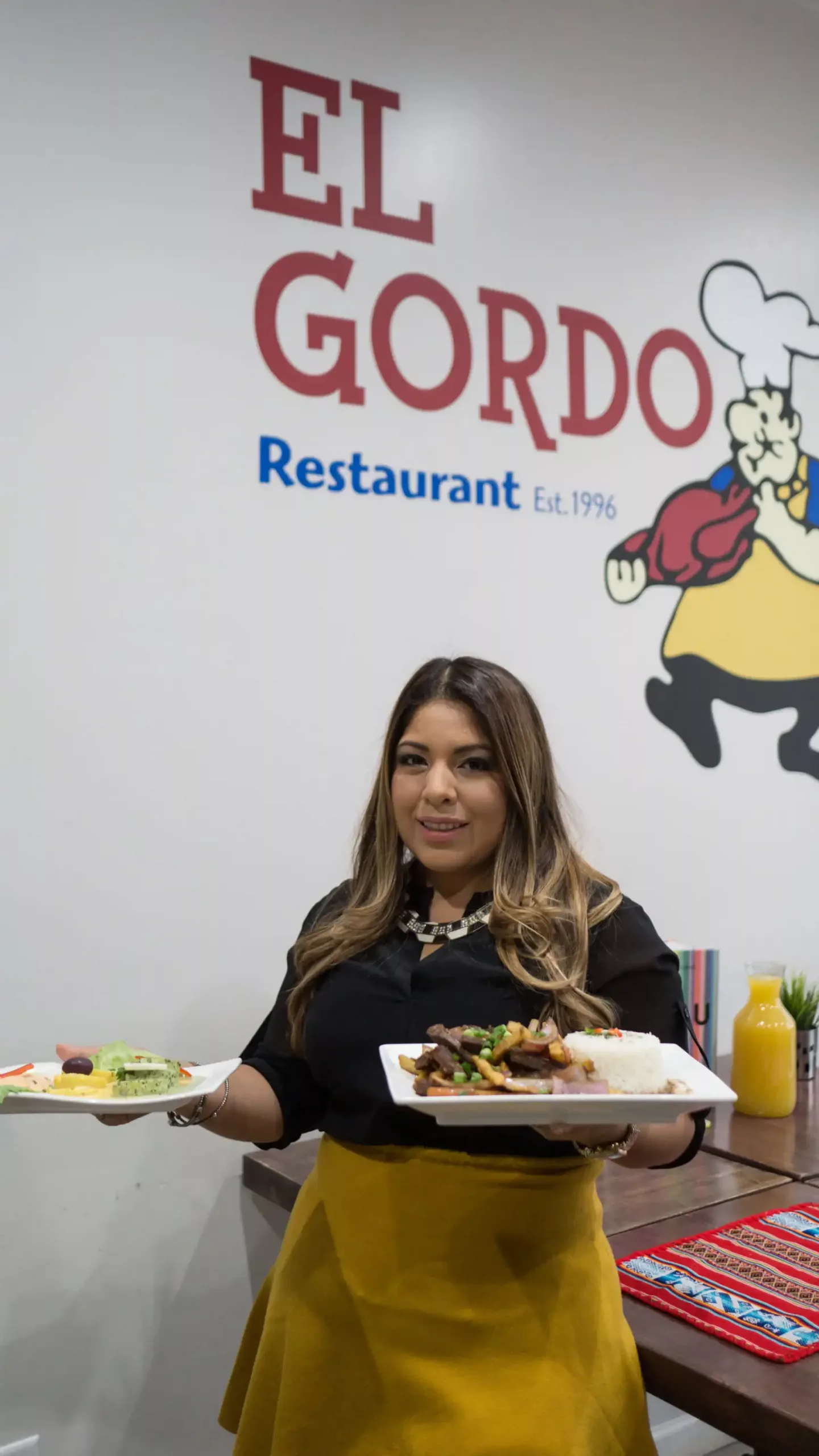 There's nothing better than a good plate of Peruvian food.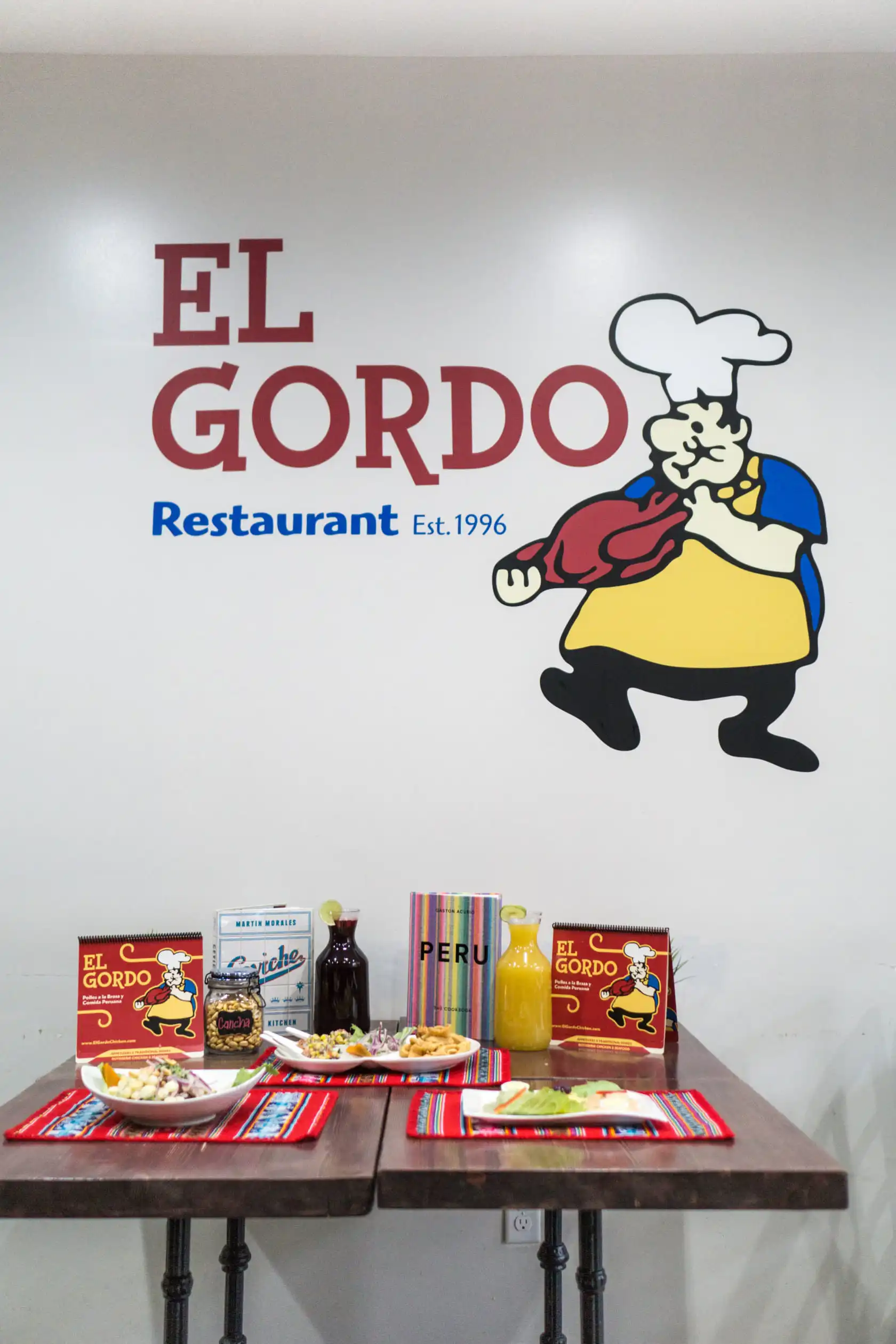 Alex: When I walked into El Gordo, it reminded me of home. The smell instantly took me back to the days when my mom and grandmother would bring food for dinner – Lomo Saltado, Arroz con Pollo, Papa a la Huancaína, Pollo a la Brasa, Anticuchos… It smelled like my childhood. It was incredible. The restaurant feels cozy, almost like you're eating dinner at your grandmother's house, and you're treated to food full of flavor and variety. While I haven't eaten most of these dishes in years, I can't deny that these were all foods I once enjoyed and foods that my family still enjoy to this day.
A few months after it opened, I took my mom to El Gordo for her birthday. She told me the true test to whether it was a good Peruvian restaurant is in the taste of the ceviche. Needless to say, she was satisfied.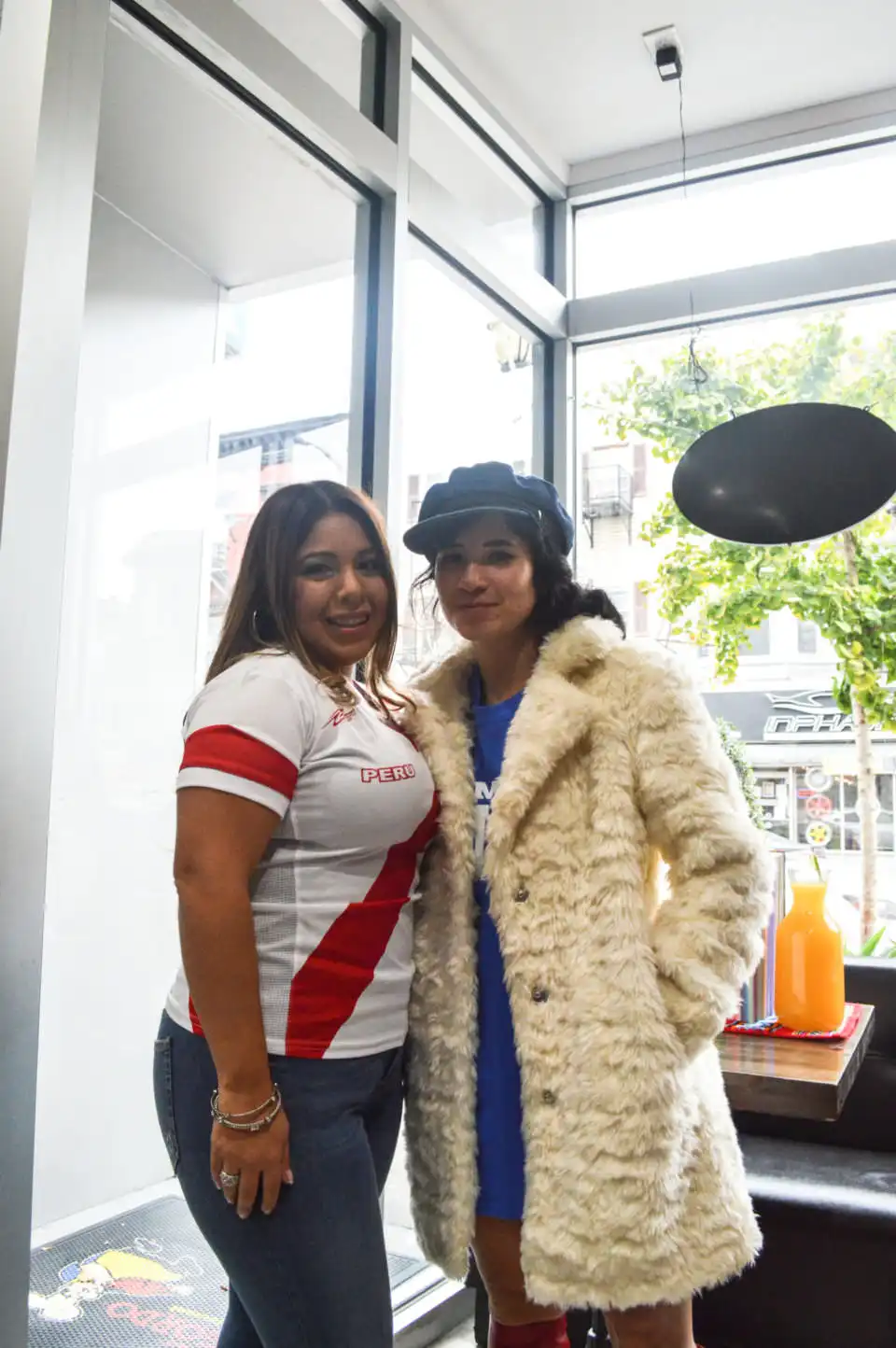 Lynn: I had Peruvian food for the first time at El Gordo earlier this year, and it was incredible. I couldn't believe I had gone so long without knowing how delicious this food is, and every bite is full of flavor. The first time I went to El Gordo, I had the chance to meet Lizeth, a fierce lady boss/mogul in the making. She is so passionate about her business, Peruvian food and culture and being a lady boss it was infectious. I knew I had to really get to know her.
The team all went back for an amazing family style meal, and we got to try almost everything on the menu. It was a blast.
Get to know Lizeth Morales, the owner of Jersey City's El Gordo Restaurant, and learn how this restaurant chain came to be. You'll instantly want to visit, grab a glass of maracuyá or chicha morada, and enjoy some delicious food from Peru.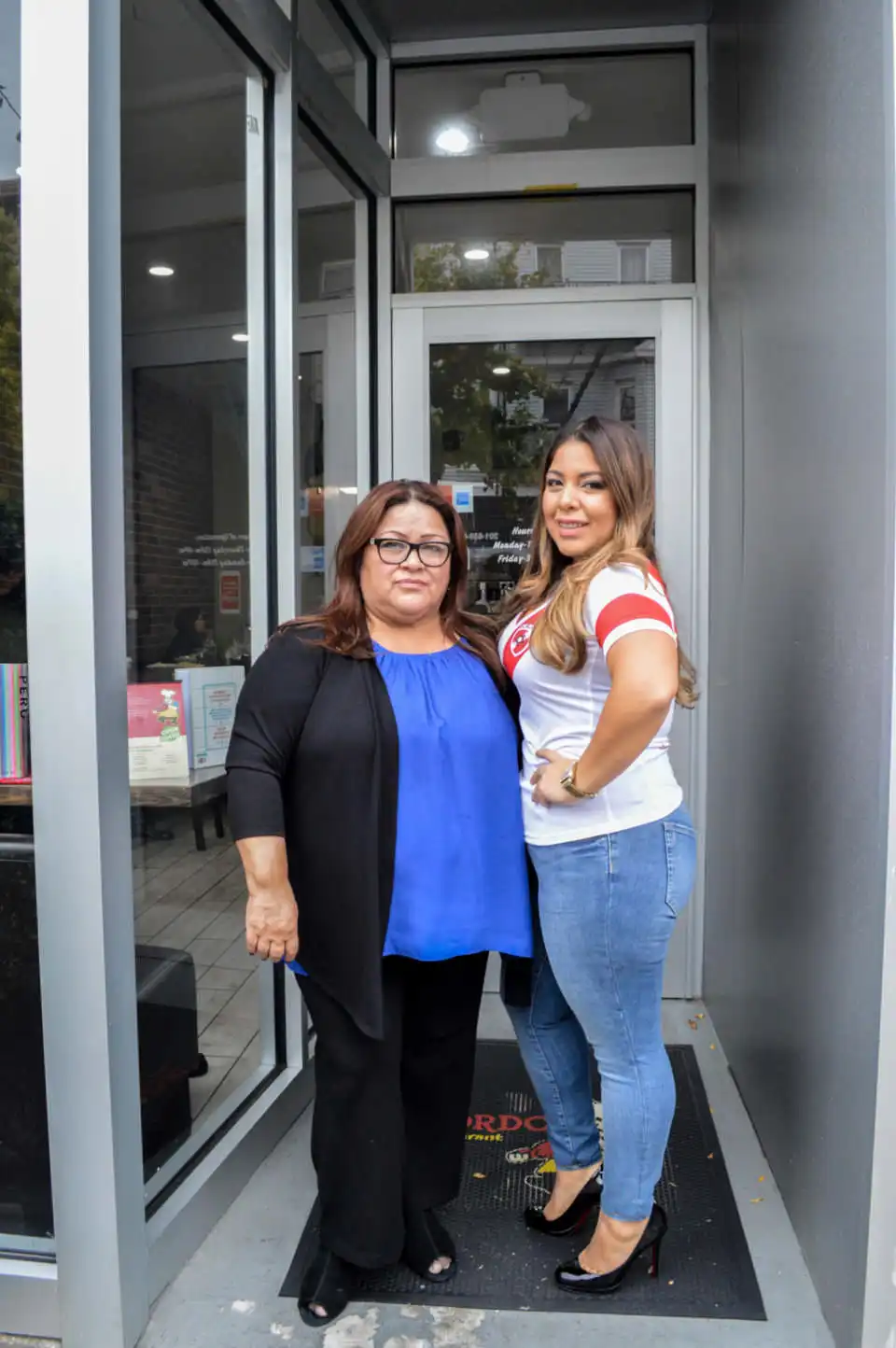 What's your name?
Lizeth Morales.
What do you do?
I am the owner of El Gordo Restaurant's newest location at 291 Central Ave in Jersey City.
Tell me about El Gordo. How did it start?
El Gordo was started in 1996 by my mother, who was a single parent who felt the need to branch off and start a new business. She believed this was the only the way she could create a strong legacy for me and my sisters. With her own homemade recipes and with her daring attitude, she decided to open up our first location on Monroe Street in Passaic. A year later, she opened up the second location, which now belongs to my uncle. This is now our fourth El Gordo location within the 20 years we've been open.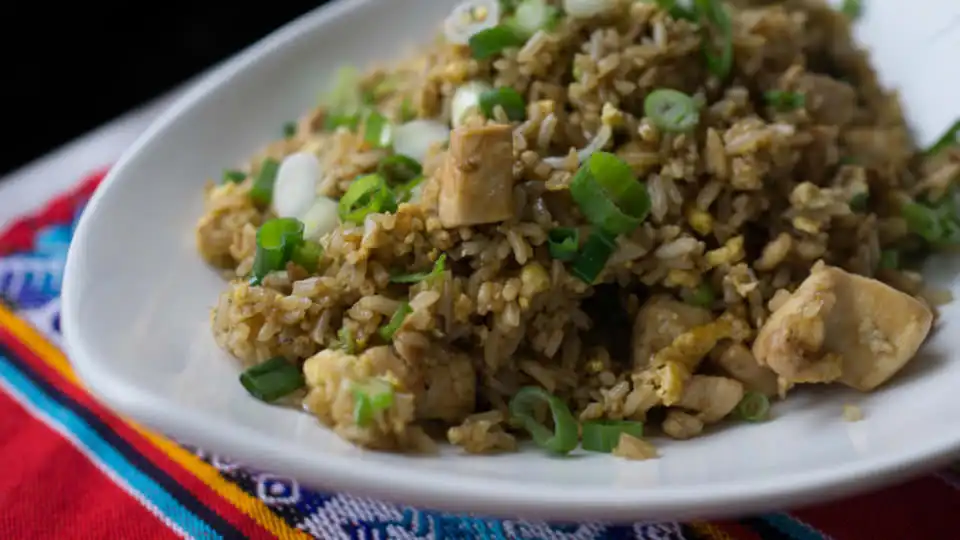 Congratulations! How long has the Central Ave location been open?
It will be one year in January. We are approaching our one-year anniversary.
Amazing. Tell me more about Peruvian food.
What's great about Peruvian food is that I feel it's currently at its peak. Presently, mostly everyone knows about Peruvian food, has heard about Peruvian food, and has tried it and loved it. I think what makes the cuisine stand out is the diversity of it. Peruvian food doesn't only have a strong foundation inspired by the Incas, our dishes also have strong influences from Japan, China, Italy and Spain, it's this diversity that turns anyone who tries the cuisine into a raving fan.
We have variety in Seafood, Meat, and our infamous Rotisserie Chicken/Pollo a La Brasa is another Peruvian staple. We even have dishes like Anticuchos and Cau Cau for the foodies who like to eat outside the box! Peru is large producer of potatoes, so most of our dishes also include a different variety of potatoes. As you can see, variety and diversity is key in our cuisine, and it's also a reflection of my clientele in Jersey City, which I love.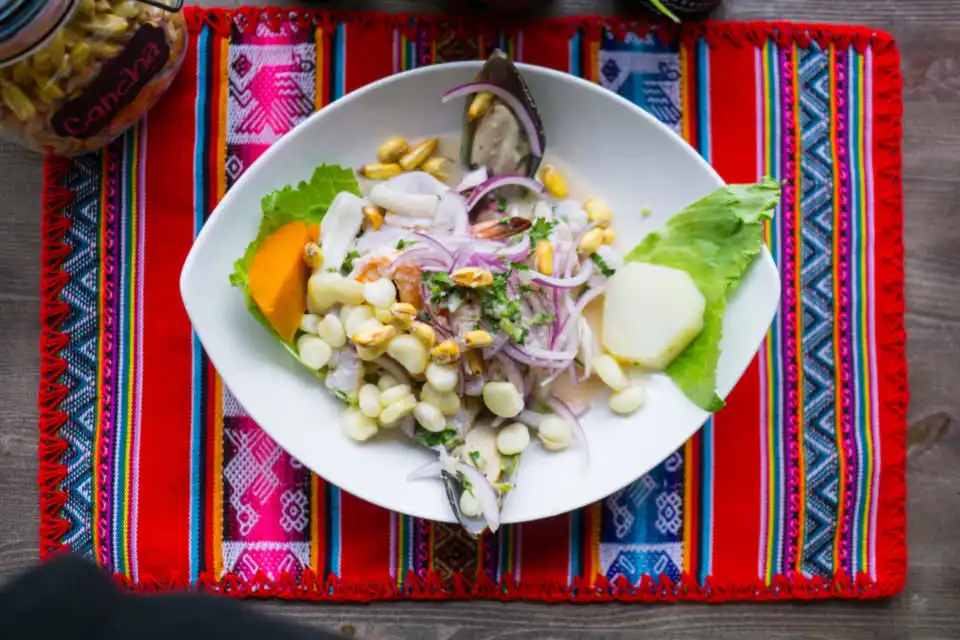 Tell me how it is being a woman business owner in the food industry?
In the food industry, it's tough because the industry is mostly dominated by men. Most restaurant owners are men, so it's tough in the sense that when it comes to dealing with day-to-day vendors, finding new vendors, even finding contractors you have to be a woman that's assertive and you have to be a woman that is not afraid to say, "This is what I want and this is how I want it."
I'm very blessed to have my mom, who has been in the industry for 20 years. She helps me a lot with having that confidence and saying, "This is our brand, this is my vision." Someone is always going to have something to say about how to run your business, what your brand should look like, what your vision should be. In this business as in most, you will always have those that doubt you. You will see that no matter how hard you try, you won't make everyone happy. Someone will always have something to say, that's why it's really important to start out strongly in knowing what you want your vision to be, what you want your brand to represent.
When you have a strong belief in yourself, it's very easy to face all those challenges.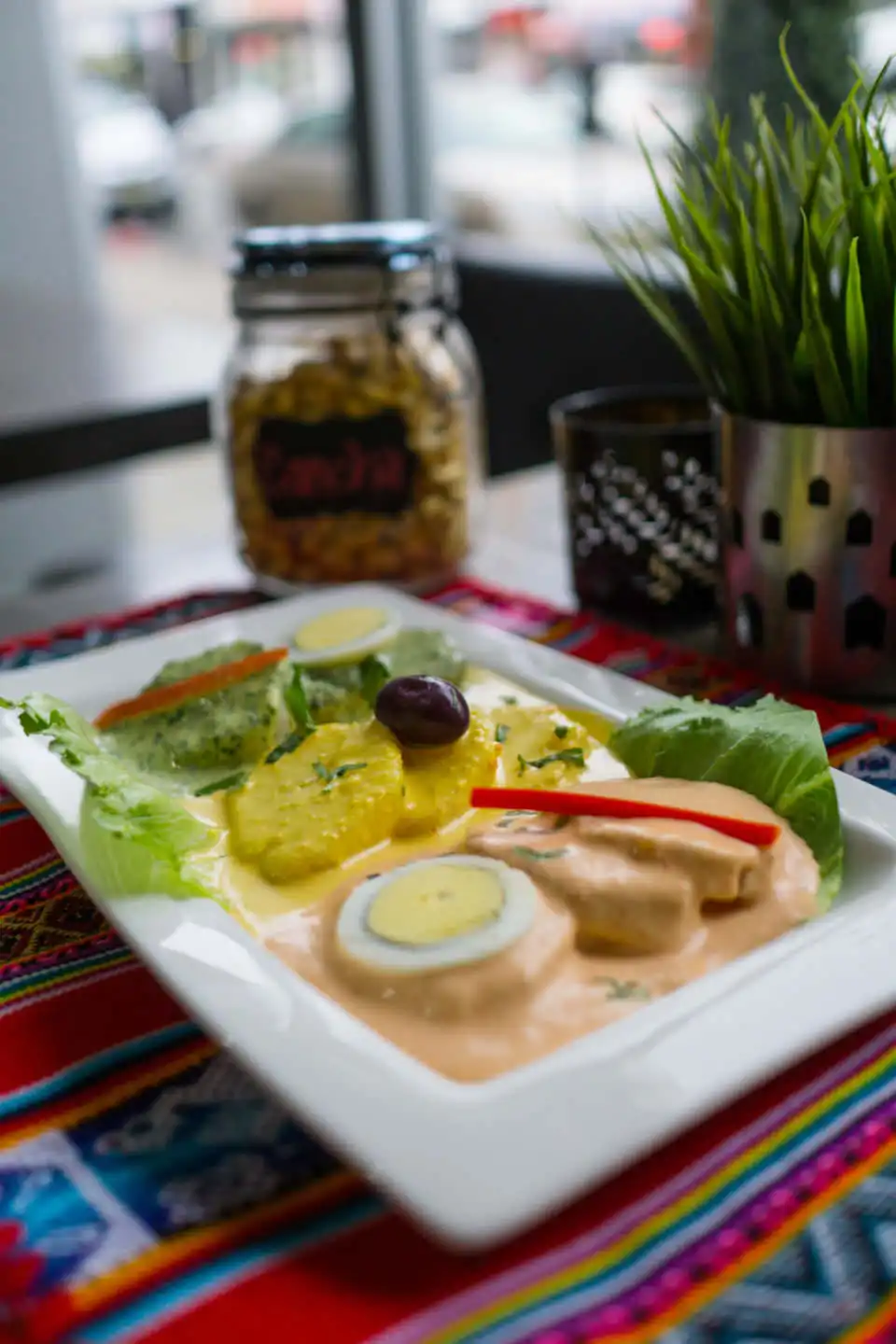 Why did you decide to get into the family business?
When my mother opened the first location, I was 13 and I've been working in the restaurant industry since I was 13/14 years old, helping out. Back then, it wasn't something I wanted to do. I was waiting tables, washing dishes, and helping with the backend stuff. I think you don't see the potential that it has to be more.
After college, I joined the company with a good management training program. I always told my mom that if I was going to join the family business, I wanted to first build some solid leadership skills. I wanted to join the family business when I felt I had the confidence and a foundation where I can grow it further than a mom-and-pop shop.
My vision for El Gordo is to turn it into a big chain so when people think of Peruvian food, they think of El Gordo as well.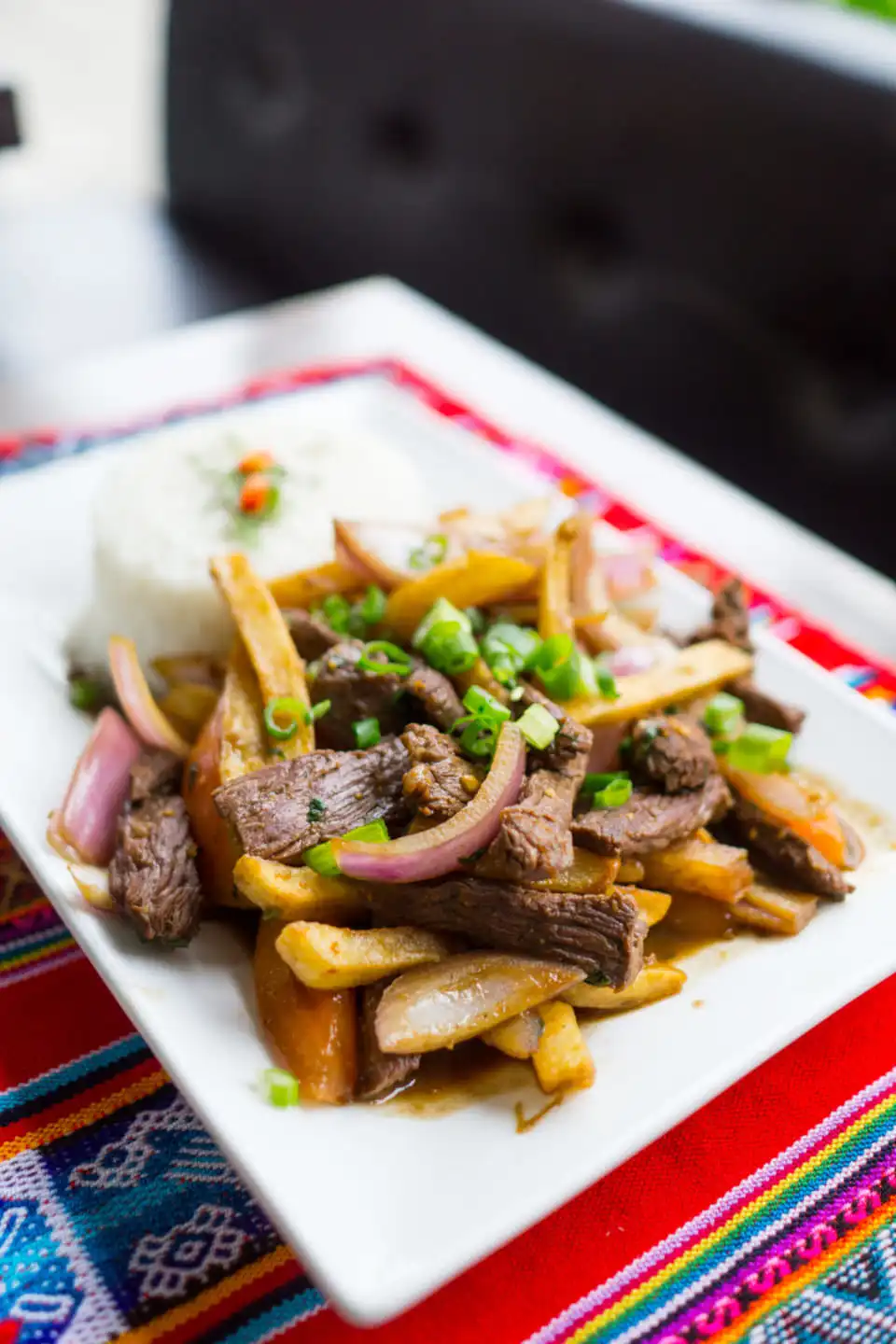 It's delicious. I never had Peruvian food until I came to eat here a few months ago. Why Jersey City?
We were scouting different locations. I was looking for diversity. I wanted a city that was diverse in its population. I wanted a city that didn't have that many Peruvian restaurants in the area so I could feel like I'm introducing a new cuisine to the community.
When I scouted different locations, that's what I had in mind and I always say, "What's meant to be will be yours." I'm not that familiar with Jersey City, I've only been Downtown. I never even knew of the Heights until I was out with one of my best friends and we met this wonderful couple at East LA in Hoboken. We were talking, and I told them I run a Peruvian restaurant and I'm looking for new locations, and they said, "We live in the Heights, you should come to the Heights! There's no Peruvian restaurants there. We go all the way to Pio Pio in New York to have Peruvian food." They told us to check it out, and lo and behold, that's how I came to this area and fell in love with it.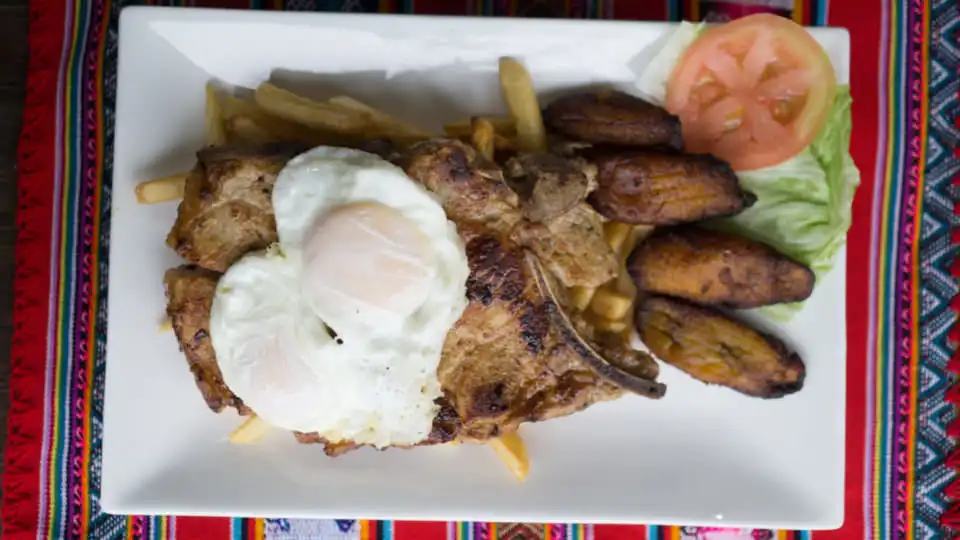 Awesome. How do you like being on Central Avenue?
I like it a lot. One of the things that first stood out to me, and I always say this – when I think of Jersey City, I think of it as being this big city. When I came to the Heights, what I really liked about it was the small, cozy community atmosphere that it has. From the moment we put up our sign all throughout construction, we had people walking by, neighbors asking us when we're going to open.
A few weeks ago, I actually had three tables full of neighbors. One of my customers was here eating, and then his neighbor came in, and it was three sets of neighbors coming here to eat. I thought, "Wow, you don't see that in a lot of places." You don't really see the community coming together and people supporting small businesses like that, so it's definitely one of the things I value most about this neighborhood.
What is your vision for the future?
My vision is to turn El Gordo into a chain. I want to open several more locations throughout New Jersey. I want El Gordo to be a successful chain without losing its essence, and that's the family homemade authentic cuisine and atmosphere. I believe that given our delicious, succulent recipes, my personal passion for Peruvian cuisine, my strong work ethic, and of course my family's constant support, I'm confident it's a vision that can be turned into a reality.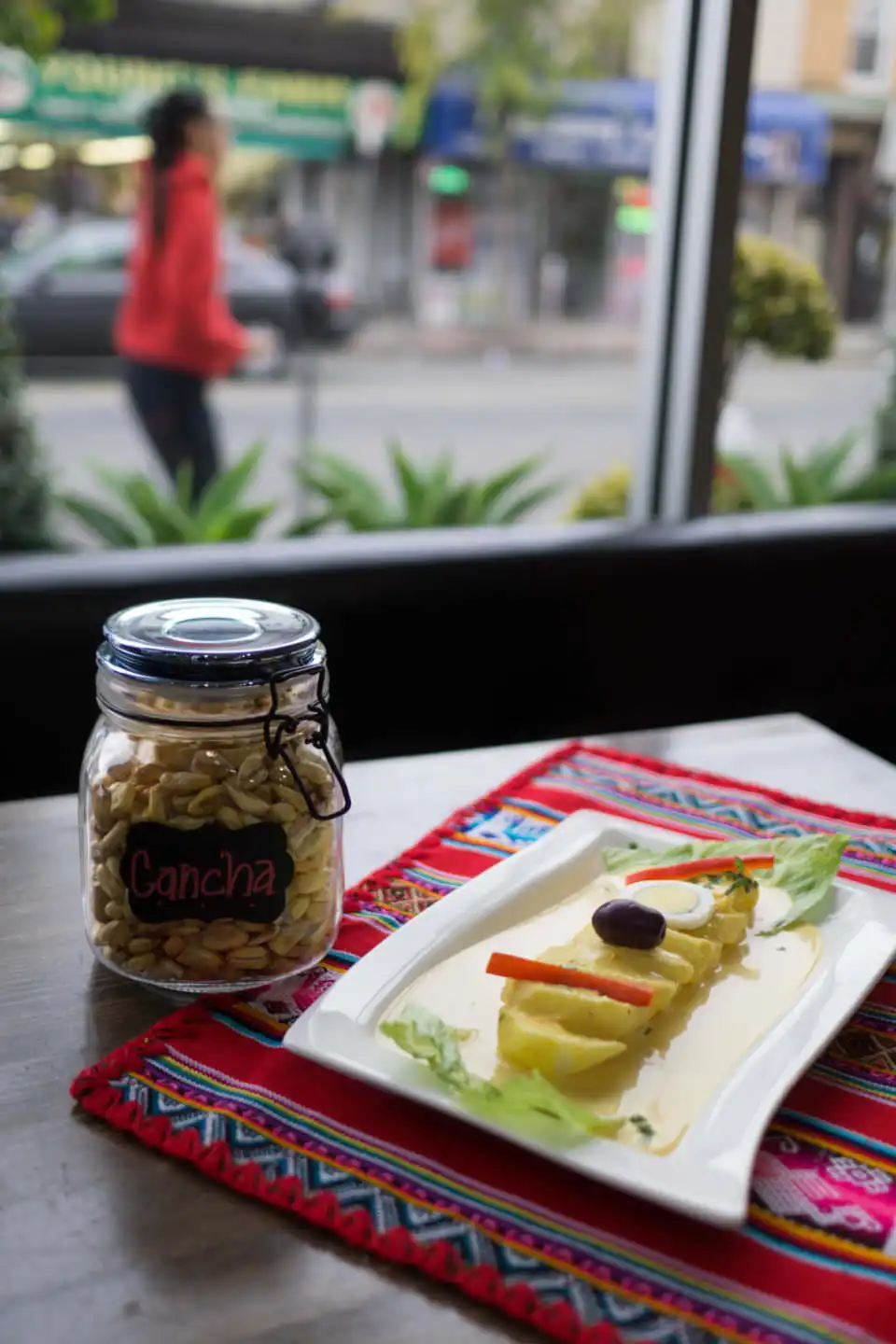 I love it. Tell us, what can people expect when they walk through the door?
This location stands out from our other locations in the sense that it has more of a chic, modern style. One of the things that my mom and I discussed when designing this was that we didn't want to lose the cozy, homemade atmosphere to it. We take our food very seriously. Our chef has been with us for 14 years, and we have another chef who's been with us for over 20 years.
We pay attention to every dish that comes out, and really make sure that it not only looks presentable but that it also tastes homemade.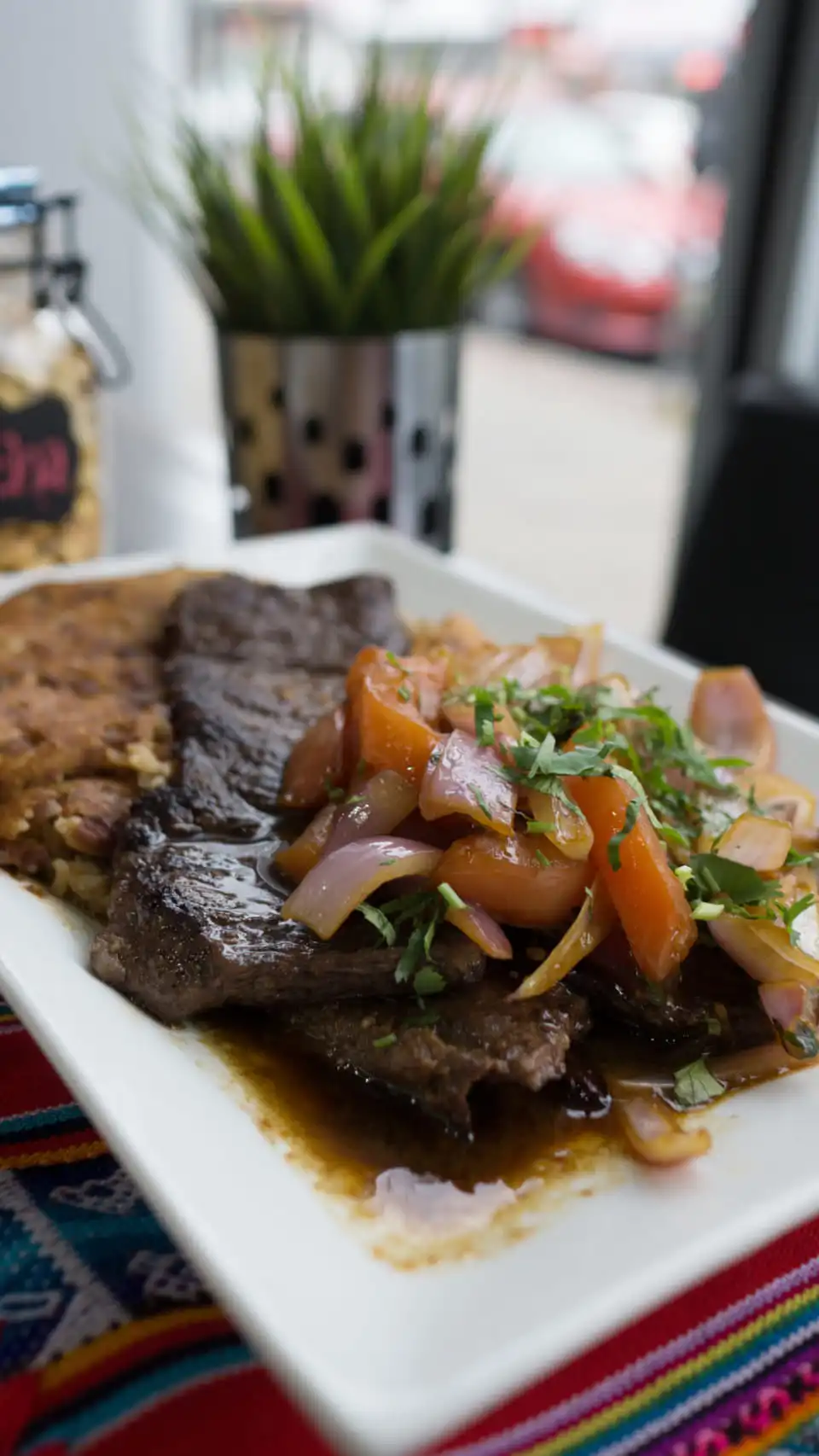 I always say a chic décor, a clean locale, and friendly service is key to the success of a restaurant, but the food… the food is what keeps the door open. The authenticity of my dishes is very crucial to me.
You know, she (Alex) is from Peru, so when she tries our Tallarin Saltado and she says, "Wow, this reminds me of how my aunt used to make it back home," that's what we aim for. When you compare my Seco Combinado (Traditional Cilantro Based Beef Stew) to that of your grandma's back home, you will see the hugest grin on my face. It's the ultimate compliment.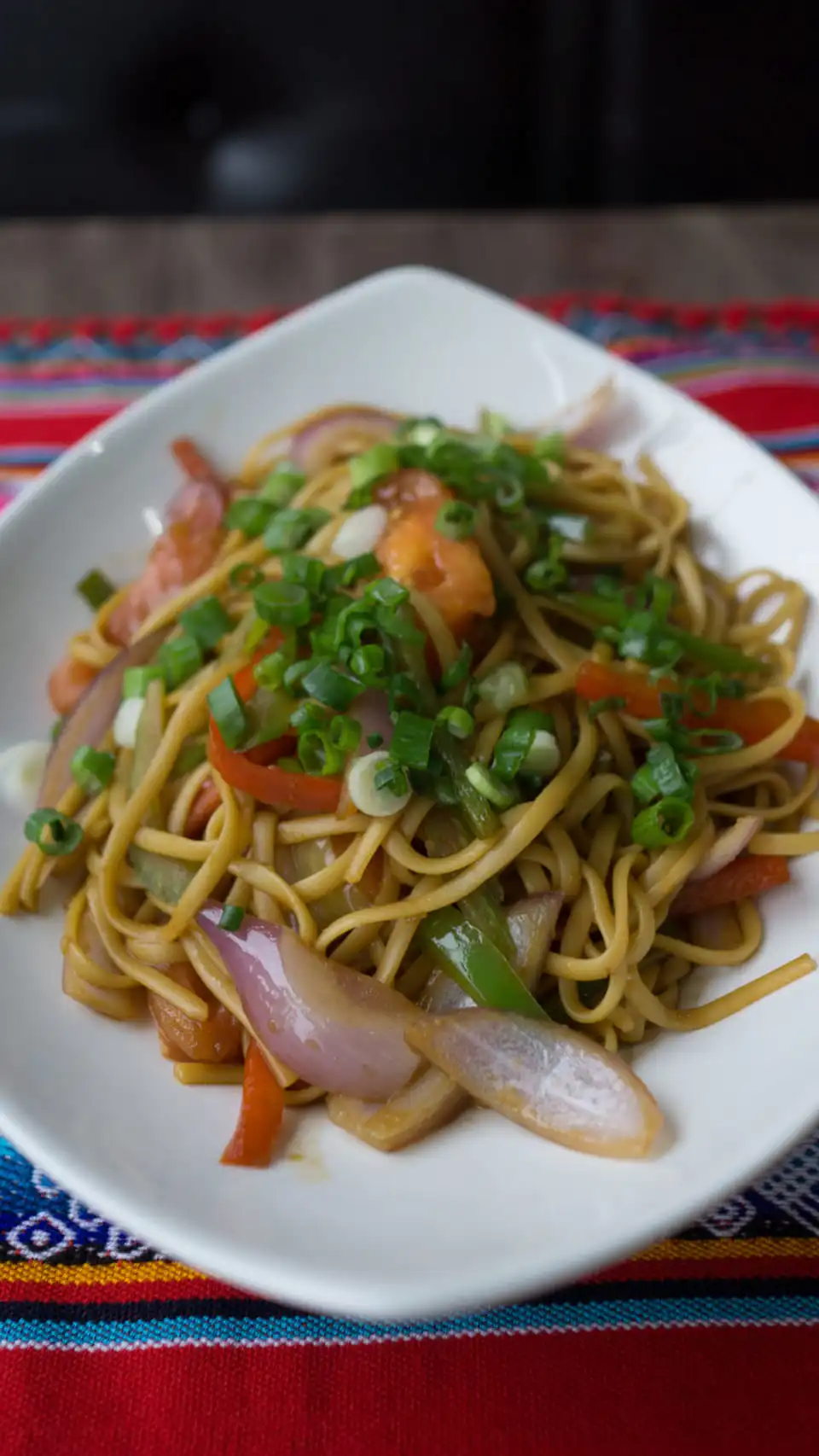 Tell me a little bit more about being an immigrant here in the United States. What's your story?
I came to this country when I was six years old. My parents migrated to this country, as many immigrants do. I went to school here, I went to college here. In the year 2000, just as I had been admitted to William Paterson University, I got the news that my father was unfortunately being issued a deportation letter, and being petitioned under his application meant that I too was being affected.
At that time, the idea of leaving was not an option. As an immigrant, you don't qualify for any student loans, any financial aid, Therefore, my college education came out of my parents' hard-earned money, as well as me getting two or three jobs to make sure I paid for it. Once I graduated college, I took the risk in just applying and said, "If they do a major background check, they'll know and I won't get the position, but maybe they won't."
I think everything is fate. I joined a manufacturing retail company which had a solid, challenging management training program. Through this program, I developed a strong foundation in management, training, sales, and recruiting. Throughout the 6 years, I worked my way from Management trainee to General Manager.
I always knew eventually I would branch out and join the family business, and after being with my company for 6 years, I felt it was time. I started to create an exit plan which consisted of a time frame, saving money, and I even started scouting locations for my first restaurant. My exit plan was that of one year. I recall being in my apartment one evening in fall of 2011 and saying, "Come hell or high water, by September I will be a restaurant owner."
You see, I'm a strong believer of the power of affirmation. What you put out with good intentions will always have a return. Come September 2012, I was a restaurant owner but it didn't exactly happen the way I had planned it.
In February of 2012, I was on my way to work when I got detained by ICE officers. I was on my way to work, running late. I thought I was being stopped for being on my cell phone, so when the officer – wearing civilian clothes – approached my window, right away I gave him my ID and my insurance. He went back and as he was leaving, I saw another car pull up and it didn't make sense. Right away, what came to me was, Something happened to my parents, something happened to my family and they're coming to give me the bad news. Unfortunately, that wasn't the case. Throughout the 12 years since my order of deportation, my case was at a standstill. My mother, who was a U.S citizen, had petitioned for me back in 2003. However, when you're a child of a U.S citizen over the age 21, you're not a priority. Therefore, it takes years. In my case, 9 years for your application/case to even be looked at! Everyone thinks it's easy to become legal, that people choose to live undocumented, but what they fail to realize is that even after someone petitions you, it still requires a lot of money and waiting to even be considered. So what do you do during that time? Well, I chose to live. If my parents had risked everything they had to achieve the American Dream, I was going to make sure I did just that. At least on the surface, I would! My mother's advice has always been, "You choose the life you want, you don't let your circumstances choose for you!"
Throughout those 9 years, I graduated from college, was part of large corporation, had a reputable career, and I was working very hard to build the life my parents had worked very hard to provide. Actually, throughout those 9 years, I never felt more American and prouder to live in this country. It's strange, but every DREAMER I meet is always the most patriotic. I believe it's because we don't take for granted the opportunities this great country has to offer. As DREAMERS, we fight so hard not to call this country our home because for us IT IS our home, we don't know any other home, we fight for our country to recognize us as one of its own. It's this fight, journey, struggle that makes us so patriotic! Throughout those 9 years, I also spent time going to countless lawyers, spending lots of money in legal fees, application fees.
Each time I would leave my lawyer, it was always the same answer. "You just have to wait." It was so frustrating. I couldn't understand why me, someone who had lived here her whole life, worked, paid taxes, other than some unpaid parking tickets, never broke the law…really, why? Tears would just roll down out of anger and frustration and each time, my mother would say on the car ride home, "Lizeth. How many lawyers have we seen? I would say many. Each time they all say the same thing, and each time you go back, you've accomplished more and more. Let that be your strength." But for me, the more I accomplished, the more depressed I became because no matter what, there was always this black cloud lingering over my head, this fear that in the blink of an eye it could all be taken away from me. The morning I got detained by ICE that fear became a reality.
A few key things that stand out to me from those days. First is seeing my dad. I was in the Newark office and saw my dad walk in with handcuffs. That's what broke me. There he was, my Dad, a man who lived in this country for over 20 years, worked 3 jobs at one point to help me with college or if I had unpaid parking tickets, that man didn't even have a black dot in his resume. Yet there he was, handcuffed like a criminal, looking so helpless. I ran to him sobbing, and he told me, "No, you will not show them that you're broken. You will be strong and we will figure this out." That's the thing about my parents, they have always taught me that strength is essential to your character.
I was in the Delaney Detention Center for 2 weeks and 4 days. It was a time in my life that I will never forget. Dealing with the immigration system, there's a feeling of helplessness, frustration, anger. Although I have never cried more during those 2 weeks, I also learned that sometimes your greatest downfalls are your biggest blessings. My father unfortunately was deported. Unlike me, he didn't have anyone to petition him. I'm his only daughter and was also detained, and all I could do was write a letter to the ICE Supervisor, pleading to let my father at least leave the honorable way, to give me a chance to take him to the airport, not to take him from his room in the middle of the night without the chance of me saying goodbye!
That's how my first restaurant came about. My dad at that time had a restaurant in Passaic that was owned by my mom at first, then she sold it to him. He said, "I'm leaving, I have to sell the restaurant because now I'm going to Peru. I'm forced to retire." That's when my mom told me to buy it. I emptied out my 401K and was pushed to take that risk. I knew I wanted to branch off into the family business, and it wasn't in the way I expected it, but five years later everything is a blessing in disguise. When I gave my mom that first call from the detention center, which is the hardest call I ever had to make, those were the words she said to me. "With everything bad, something good always comes out, always. Your good is going to come, and you might not feel like it is, but it will."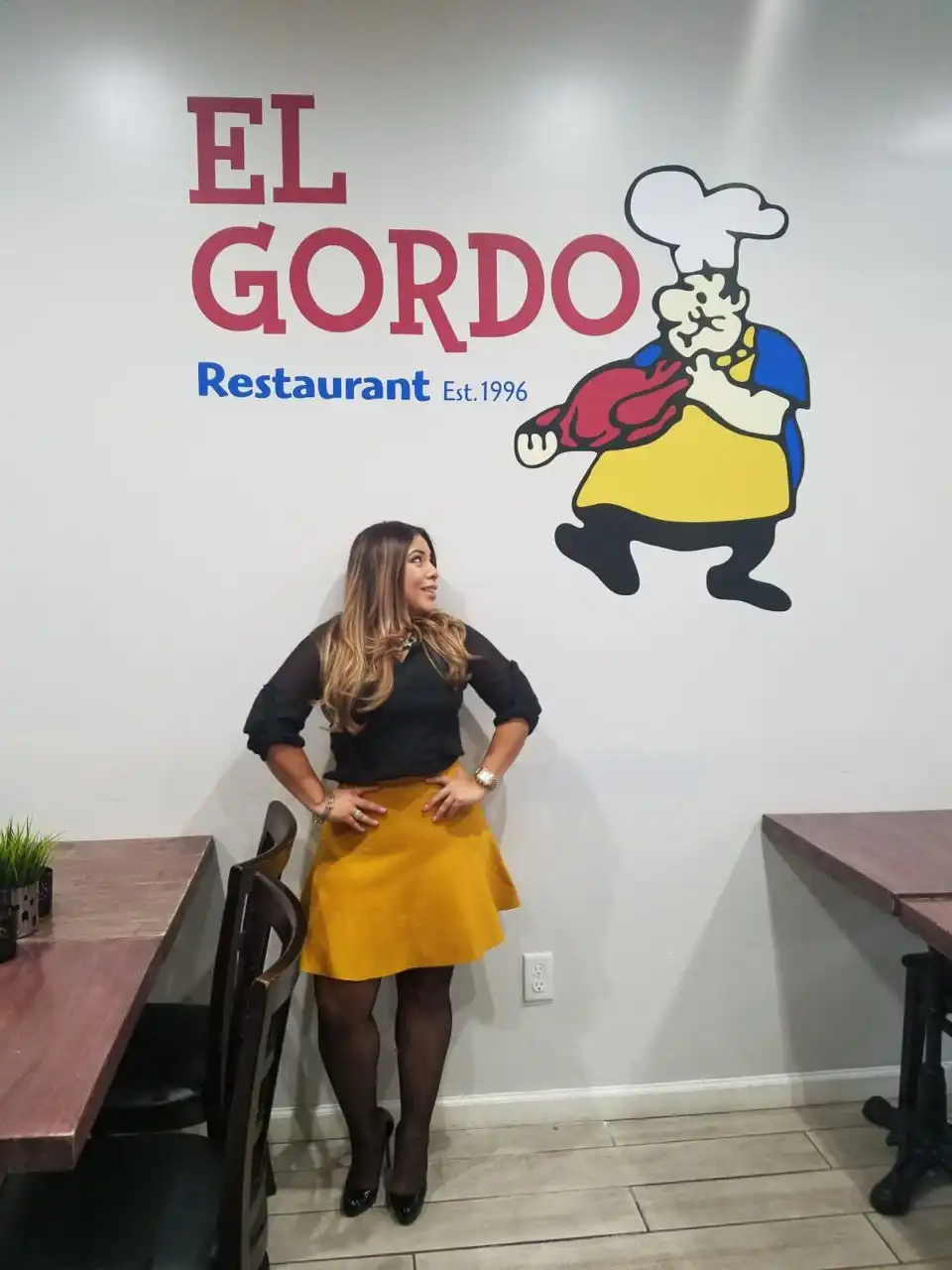 Finally, in May of 2017, I got the news that my application had been approved. After 17 years of living as undocumented immigrant, I had finally received my green card. That's the short version of my story, a glimpse of my life as an undocumented immigrant.
This year in June, I went to Peru for the first time after 20 years and it was the first time I was able to see my dad in five years. For many years, I was hesitant to share my story, mostly because I didn't want people to see me as a victim. Prior to me becoming legal, it was something that I didn't share because there was always that fear of being found out. Sharing who I was, was also sharing the feeling of loss, anger and displacement that came along with it, so for many years I stood shut! However, when the news broke that DACA is expected to be terminated, it broke me.
Even though my legal status has changed, I cried because I knew what that news must've done emotionally to each individual who's a DACA recipient. Then I realized there's strength in my story! There's strength in every DREAMER's story, we are not always who you think we are! Some of us are helping farmers in the fields, some of us care for your children, some of us are in high school and college, some of us work at your favorite local eatery, and some of us are business owners. But make no mistake, each and everyone of us have one thing in common and that's our resilience, and I hope it's that resilience that motivates you and pushes you to fight for your dreams, however big they may be and no matter the obstacles! As long as you have passion, faith, and a strong work ethic, you're capable of doing anything. That's my purpose of sharing my story, so that you may find strength in it. Looking back, everything I went through made me strong, and that's what helps assure me that this is exactly where I'm meant to be. Now I just have to keep it going.
Wise words. Well, your dad must be proud of you.
He is. I try to do my best so I can make both of my parents proud. They both came to this country and sacrificed a lot. They both worked really hard, and I think that is what gives me my work ethic. I've seen my parents work in all kinds of jobs just to be able to put food on the table and a roof over my head. That's my vision, for them to see me as someone who is strong, independent, and can build a legacy.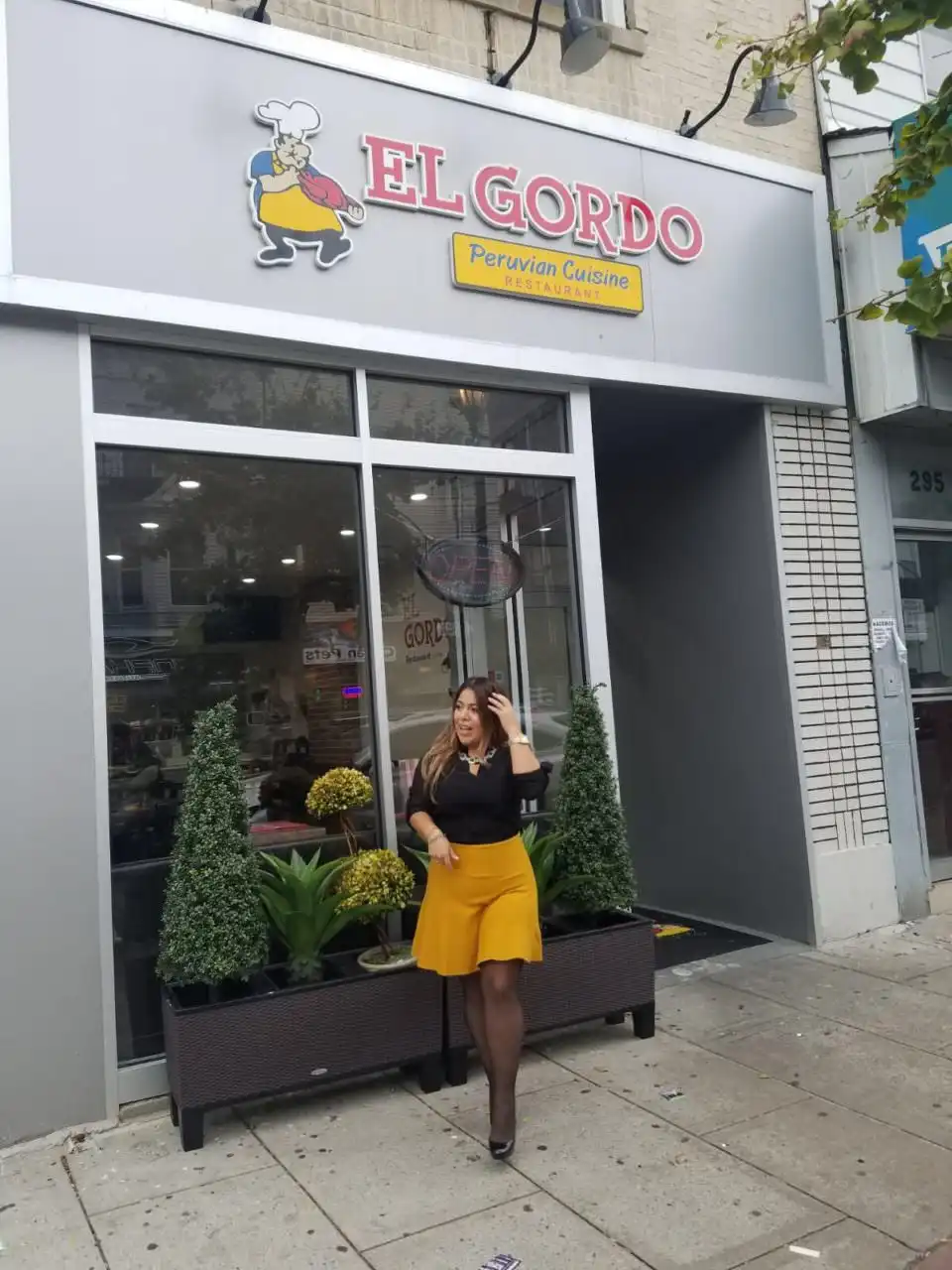 You must be proud of her!
Lizeth's Mom: Very proud.
Do you hang out in Jersey City at all?
I haven't had a chance to explore Jersey City as much as I wanted to. I don't really have time. I just moved nearby, so now I'm a little bit closer, but I haven't other than some Downtown bars.
Anything else you'd like people to know about you or El Gordo?
We're a family-owned business. That's a key thing. We put love and a lot of hard work into our brand. My mother and I are very hands with all aspects of the business. Everyone just sees the glitz and glamor of your business. No one sees the day-to-day sacrifice. This kitchen has seen me laugh, cry, dance. This restaurant has seen it all. Its that sacrifice that gives it a home made feeling! So when you walk in you're not only a customer, you're also family.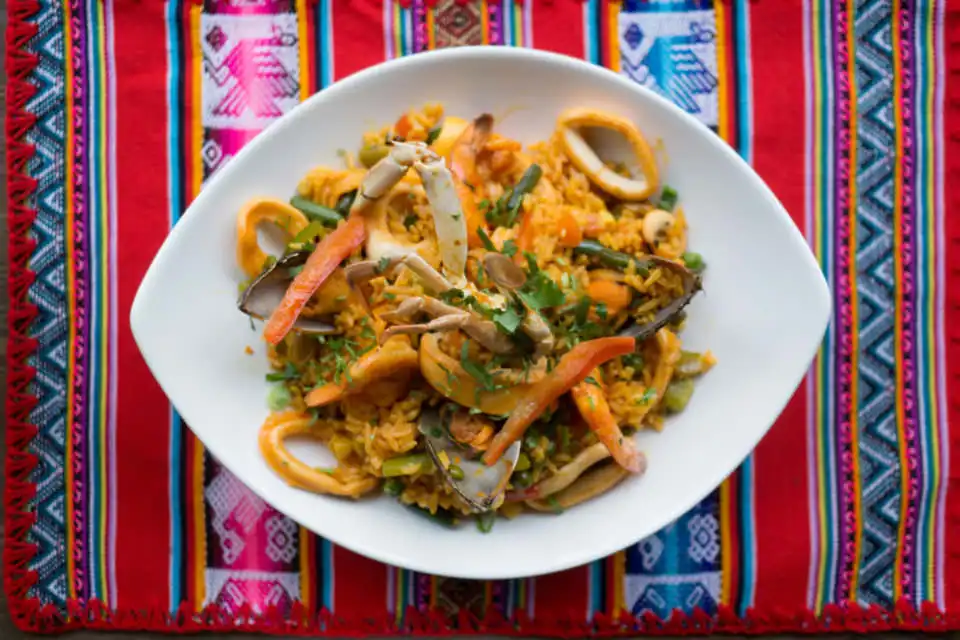 And you're also BYOB.
Yes! We're BYOB, so bring your own bottle of wine, and have a good time. We deliver all throughout Jersey City, too!